THE CVM GRAND CHALLENGE
206-MILE CYCLE RIDE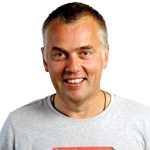 On 19th July 2018, Michael Cooper (Director, CVM England) will set off on his Grand Challenge. He will be cycling from his home in Kent to the CVM office in Chesterfield.
Over 90% of the financial support received by CVM is from individual donors. As part of that effort each of the team are encouraged to do something slightly crazy to help raise funds. We call it the Grand Challenge (the aim being to raise at least £1000) in return participants are entered into CVM's 'Hall of Pain'.
Following his kayaking exploits in 2016, Michael has decided to make the long trip, to Chesterfield again, this time using pedal instead of paddle power. The 206 mile trip, over just three days, will pass through Kent, London, Buckinghamshire, Northamptonshire, Leicestershire and Derbyshire. If you want to join him along the way that'd be great. Similarly it would be fantastic if you could donate to the work of CVM using the link below and share the event with your friends and family.
Look out for news updates as Michael builds up to the event - and please be praying!
Thursday 19 July - Coxheath to Berkhamsted
Friday 20 July - Berkhamsted to Market Harborough
Saturday 21 July - Market Harborough to Chesterfield
Sunday 22 July - Available for testimony/talk in Chesterfield
If you would like to cheer Michael along, and help him reach his fundraising target, you can make a donation here
Contact Michael: