Alvin Davies: Ministry Specialist, CVM Motorsports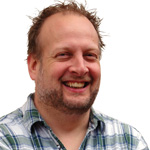 Now based back in Essex - following my training in theology, pastoral care and mission, I feel that God is specifically calling me to reach people for Him in a full-time capacity.
While training over the last few years I have been able to work in a voluntary capacity alongside CVM using cars, bikes and motorsport to reach guys with the Good News. During this time we have started to see the significant potential of this approach – something which today I believe is comparable with the medium of sports mission (now greatly used) in terms of being able to open firmly closed doors.
I wholeheartedly believe that God is calling us to reach men across this nation. We absolutely need more guys in the Kingdom, and as a part of the CVM's team of 'ministry specialists' I feel immensely privileged to play a part within this great task as Motorsports Coordinator. This role will see me:
Working with CVM's men's groups and helping to inspire new ones
Helping car/bike teams that have expressed a desire to use their racing in UK outreach (and writing unique resources for these teams in their mission - five teams so far)
Speaking at events, missions, churches, groups and breakfasts
Pioneering a new team with the sole purpose of sharing Christ in, and through, motor-sport where each and every decision is fully Gospel driven (thus hopefully demonstrating a precedent/model for others).
Connect with Alvin: